Wilde East Towne Honda Honored with 2019 Honda President's Award
FOR IMMEDIATE RELEASE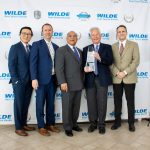 Feb 26, 2020 MADISON, Wis.—Wilde East Towne Honda has once again earned the
prestigious President's Award from American Honda Motor Co., Inc. for
excellence in all business areas, including sales performance, sales
experience, service performance and business operations. Wilde East Towne Honda
is one of only 183 top-performing Honda dealerships in America to receive the
Honda President's Award for 2019. "It is an honor to recognize Wilde East Towne Honda for its
dedication to providing our customers an outstanding sales and service
experience," said Henio Arcangeli, Jr., senior vice president of Automobile
Sales at American Honda. "The President's Award recognizes dealerships that are
committed to providing our customers an exceptional sales experience and
outstanding service long after the sale, and Wilde East Towne Honda exemplifies
this award." To qualify for the President's Award, a dealership must meet
all award criteria and fully achieve its new vehicle sales objective.
Dealerships that receive this distinguished recognition are role models for
building positive connections with customers and are committed to creating
outstanding customer experiences. "I am proud of the entire Wilde East Towne Honda team for
earning the coveted Honda President's Award for the seventh year in a row,
placing us among the top two percent of Honda dealers nationwide," said Jorge
Hidalgo, Wilde East Towne Honda principal partner. "We strive for excellence
and are devoted to consistently exceeding customer expectations." As a recipient of Honda's highest honor Wilde East Towne
Honda will receive the President's Award trophy, recognition materials to
display in its dealership showroom and promotional recognition in an
advertisement by American Honda Motor Co., Inc. Each employee will also be
rewarded for their individual contributions to the success of the
dealership.