Keller, Inc. Honored with Project of the Year Award by ABC of Wisconsin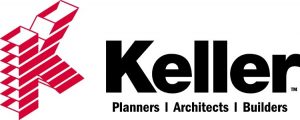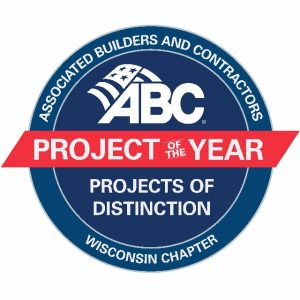 WISCONSIN DELLS, WI – Keller, Inc. is being recognized for construction excellence in 2019.
Associated Builders & Contractors (ABC) of Wisconsin honored Keller, Inc. with the first ever 'Project of the Year' award for the design and construction of the Eagleview Dental Office in Prairie du Sac, Wisconsin.  The project received the highest average score by judges.  The project also received a Gold 'Projects of Distinction Excellence in Construction Award' for a Healthcare project under $5 Million.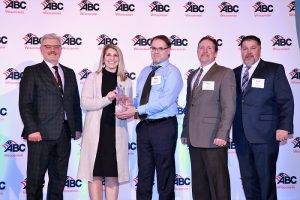 Located on a bluff overlooking the Wisconsin River, this 4,200 square foot dental office takes advantage of the popular eagle nesting habitat in Prairie du Sac. Built on a site thought to be too narrow, it has two stories facing the river and one story facing the street. The slope of the river bank was so severe, it required special foundations and slope stabilization measures. Keller, Inc. employed an aggressive winter schedule to avoid construction during eagle nesting, which is prohibited. Another challenge was navigating electrical and data communication lines and replacing the brick facade after the owner had second thoughts about the original selection.
Keller, Inc. was also honored with three other 'Projects of Distinction Excellence in Construction Awards' by ABC of Wisconsin. Tri City Glass & Door, located in Appleton, WI, was honored with a Gold Award for a Commercial Building in the $2 - $10 million category. Hatch Distilling Company, located in Egg Harbor, WI, was honored with a Silver Award for a Pre-Engineered Metal Building in the $1 - $2.5 million category. And J.J. Keller, located in Neenah, WI, was honored with a Silver Award for the Restoration & Renovation category.
These projects were judged in a rigorous process by a panel of construction experts based on a number of criteria, including safety, quality, owner satisfaction, execution and coordination, budgeting, difficult and unusual challenges, and overall distinctiveness.
The Projects of Distinction Awards is designed to recognize the most distinct construction projects in Wisconsin, and to elevate the awareness of the quality construction performed by ABC member firms and their employees.  Project owners and Keller, Inc. team members were on-hand to accept the prestigious awards on February 13th in Wisconsin Dells.
The event recognized 54 projects — mostly general construction — but also in specialty trades from electrical to plumbing to thermal and moisture protection.  A full list of the award winners can be found at https://www.abcwi.org/membership/awards-programs/projects-of-distinction/#sl_projects.
South Street Motors
261 South St Sun Prairie WI 53590
608-834-3330
Mobility Works
222 Linerud Dr Sun Prairie WI 53590
608-433-9051
K&S Wholesale Meats
1140 Wilburn Rd, Sun Prairie WI 53590
608-469-9453
Sani-Matic
2855 Innovation Way, Sun Prairie, WI 53590
608-356-3300
Dental Health Associates
5002 AmCenter Dr Madison, WI 53718
608-467-3000
Herzing University
5218 E Terrace Dr., Madison, WI 53718
262-671-0675
Full Spectrum Health Services
1320 Mendota St Ste 110, Madison, WI 53714
608-237-3550
Office Furniture Resources
1261 W Main St., Suite 103, Sun Prairie, WI 53590
608-509-5964
Fed Ex (Inside Walmart)
1905 McCoy Rd, Sun Prairie WI 53590
608-478-3828
Kestrel Ridge Golf Course
900 Avalon Rd, Columbus WI 53925
920-623-4653
Infinity High Purity Systems
2890 Terra Ct Ste 16, Sun Prairie WI 53590
608-834-4200
Thryv
2200 W Airfield Dr, DFW Airport, TX
972-453-7790
The Loft at 132
132 Market St, Suite 200, Sun Prairie
608-235-9506
Iconica
901 Deming Way, Madison
608-664-3550
MOOYAH!
695 S Grand Ave, #104 Sun Prairie
608-482-0461
Workforce Solutions
1015 W Main St, Sun Prairie
608-478-4002
Robin Lindsay, LLC
1420 Smithfield Dr, Sun Prairie
714-920-0385
Madison Graphics Company
1620 N Bristol St #1120, Sun Prairie
608-318-1711
Didion Milling
121 S Bristol St, Suite 201,Sun Prairie
920-348-6873
Old National Bank
1516 W Main St, Sun Prairie
608-478-6213
TSL Graphics, Inc
1620 N Bristol St, Sun Prairie
920-648-4014
Wisconsin Commercial Real Estate
7601 University Ave # 202, Middleton
608-335-3210
1-800 Water Damage of Greater Madison
2780 Terra Ct Unit 2, Sun Prairie
608-541-6616
The Brow Boutique
2828 Prairie Lakes Dr Suite 102, Sun Prairie
608-827-0097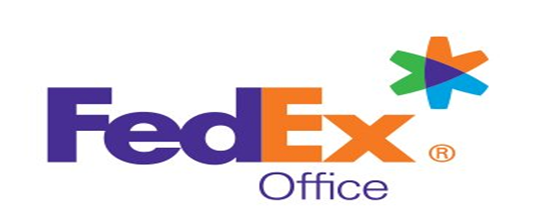 FED EX OFFICE
FedEx Office is your go-to for all printing and shipping needs. From flyers and brochures to canvases and outdoor posters. You name it, we can print it. Prior to ordering, we will talk through your needs to find the best solution for you. We are also experts in packing and shipping. Bring your items to be shipped and we can pack them for you backed by our Packing Pledge. Come visit us inside Walmart on McCoy Road!
Fed Ex Office—Inside Walmart
1905 McCoy Rd
Sun Prairie WI 53590
608-478-3828
http://fedex.com/us
Click here for photos and more information.
December 4th: Park Bank
November 19th: Madison Graphics
October 15th: Interior Investments and 1-800 Water Damage of Madison
September 18th: Prairie Pawz and First Choice Insurance Solutions
September 12th: Hamm's Arbor Care
May 15th:  Jersey Mike's Subs and Oliver Motors
April 16th: Burn Boot Camp & Firehouse Subs