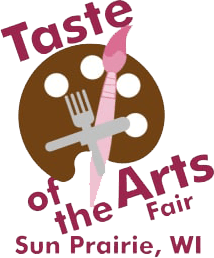 2019, the 37th Annual event, Sheehan Park, 1351 Linnerud Drive, Sun Prairie Features:
*   Wine & Cheese Tasting!
*   Food Vendors!  have lunch on site!
*  Over 100 vendors with a variety of crafts, fine art, garden art, jewelry, clothing, wood crafts, photography, oil and watercolor paintings, florals, specialty foods and more!
View 2019 photos/highlights below.
Children's Activities:
Playground on site;
Sheehan Park includes a children's playground area, plenty of free parking, restrooms and benches/shaded areas.
Map/location of the park: click here
Vendors can request to be placed on a registration mailing list by contacting the Sun Prairie Chamber of Commerce at spchamber@tds.net or can download the vendor application
2019 Vendor Awards
First Place:  One Can Dan
Second Place: Refractions of Light
Third Place:   Michael Aethalbern
Honorable Mention:   Freedom of Ink WI
Honorable Mention:   Morning Glory Mosaics
Where to Stay in Sun Prairie
Hilton Garden Inn:  1-866-599-6674
McGovern's Hotel & Suites: 1-608-837-7321
Quality Inn & Suites:  1-608-834-9889
Super 8:  1-608-837-8889
The Baehr House:  1-866-599-6674