In January, 2017, a committee was formed to address the issue of Workforce Housing in Sun Prairie.  The committee brings together representatives from: Dane County, City of Sun Prairie, Sun Prairie Businesses and the Chamber of Commerce.  The Chamber facilitates the group and has monthly meetings to address goals, education, communication plan and more.
The purpose of the Workforce Housing Committee is to
engage interested private and public sector stakeholders,
facilitate greater understanding about housing issues; and,
explore and develop recommendations to address Sun Prairie's workforce housing gap.
More About Workforce Housing: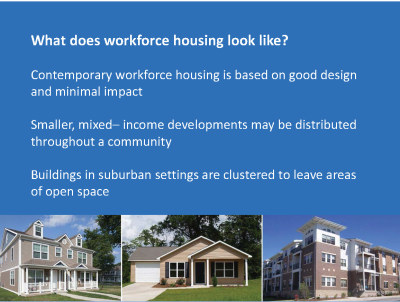 For more information about the workforce housing committee, contact the Sun Prairie Chamber of Commerce, 608-837-4547 or spchamber@tds.net.
Eleven41 Main Project:
Opening Spring 2020;   1141 W. Main St., Sun Prairie
* 64 units;  1,2 & 3 bedroom units;  income restrictions may apply;  underground parking, community room, fitness center and outdoor patio;  close to many amenities
Call:  608-835-3900;  email:  nsolheim@gormanusa.com;  www.gormanusa.com
McHenry Apartments Project:
The McHenry will be a 100% Smoke Free Property – there will be no smoking allowed in the building or anywhere on the grounds.
There are 18 one bedroom one bathroom apartments (renting for $878), 16 two bedroom two bathroom apartments (renting for $1056), and 3 three bedroom two bathroom apartments (renting for $1223).
Read a resident testimonial letter about her experience at McHenry!  click here
for more information contact:
Andrew Schmidt | Property Manager | Forward Management, Inc.
1314 O'Keeffe Ave | Sun Prairie,  WI  53590
Direct: 608-285-8691 | Phone: 608-242-1700 | Fax: 608-242-9879