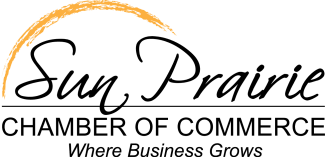 Location:  109 E. Main St., Sun Prairie, WI 53590
(608) 837.4547
Email
Open for walk-in traffic: Monday-Friday 10 a.m. to 2 p.m.
Available by phone, email or social media: Monday-Friday 9 a.m. to 5 p.m.
Our Mission:
To foster, promote and protect the business interest of its members and to create a positive economic, political, educational and social climate in Sun Prairie
How does our Chamber rate in terms of membership statistics?
The 2018 MACE Survey (Mid-America Chamber Executives) gives statistics state by state on average number of members, retention rate etc.
Here's Sun Prairie's numbers in relationship to Wisconsin Chambers:
Average membership rate for similar size chambers (based on total chamber income):  State:  $281    Sun Prairie:  $220
Average number of members end of 2018:  State = 353    Sun Prairie = 411
Average number of members end of 2018-Chambers similar size as ours:  State = 357   Sun Prairie = 411
Average retention rate of members - similar size chambers:  State:  91%    Sun Prairie:  89%
Per the City of Sun Prairie as of July, 2019, there are 744 licensed businesses in Sun Prairie, our member penetration rate is 55%;
As our community continues to grow, so shall the Chamber!  Thanks so much for your membership.
What have we been up to? Alot! Here are some of our most recently added new programs/services:
Bowling Tourney: 2012;    Business Spotlight:  2013;     Home Biz Market:  2015;
New Website: launched December 2016; additional new features added in 2017
Workforce Housing Committee in partnership with Dane County and City of Sun Prairie 2017/2018
Professional Development Series in partnership with DeForest & Waunakee Chambers and Madison College 2017/2018
Monthly Restaurant Mystery: 2018;   Breakfast Networking Roundtables:  2018;   Snap a Selfie Promotion: 2019