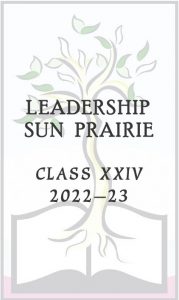 Thirteen working professionals will begin the Leadership Sun Prairie, a program for emerging leaders, which provides exclusive training to increase local leadership throughout the non-profit, private and government sectors.
After a two-year hiatus, Leadership Sun Prairie is back for its 24th class. The course was developed by the Sun Prairie Area School District, City of Sun Prairie and the Sun Prairie Chamber of Commerce in response to the need for formal leadership development on a community-wide basis.
Leadership Sun Prairie emphasizes concepts and community needs. Specific course objectives include developing an awareness and understanding of the resources, processes, programs and issues. To broaden the participants' understanding of the economic, political, and social systems. To promote involvement and participation in volunteer, elective and appointed positions. Increasing participants' analytical and decision-making abilities and developing a support system amongst participants which will aid them in their leadership journey for the betterment of our community.
Training sessions require a commitment of one full day each month from September to April (excluding December), with a graduation ceremony in May. Each monthly session will feature local leaders and specialists in various forums, including lectures, round table discussions and tours throughout the community.
Course Content:
Leading Change: Developing leadership skills to team building, identifying leadership styles and qualities.
Health and Wellness: Personal and community health issues, alternative medicine and stress relief.
Government: Overview of city services, departments, planning issues and emergency services.
Business and Industry: Tours of local businesses, economic development goals, strategies and small business issues.
Education: Key issues in today 's education environment such as diversity of population, revenue caps and discussions with students.
Volunteerism: Personal and community benefits, motivation, how to get involved and opportunities available.
Communications and Media: Working with media, technology, effective personal communication, cable access TV, advertising and public relations tips.
This Year's Participants:
Amanda Babiarz, Colonial Club
Andy Eyers, State Farm
Anne Baranski, Forever Home Real Estate
Ben John, City of Sun Prairie
Chris Pederson, City of Sun Prairie
Colin Lessig, Sun Prairie Media Center
Dawn Ferengo, Pop Art Entertainment
Kristin Grissom, City of Sun Prairie
Kyle Lindert, Summit Credit Union
Leticia Silva, Sunshine Place
Mike Steffes, City of Sun Prairie
Rebecca Ketelsen, Exchange Club
Stacey Christenson, Sun Prairie School District
Who benefits from this program?
Business Industry Service Organizations Government Education Residents
Everyone in the community benefits from the involvement of more informed leaders through LEADERSHIP SUN PRAIRIE!
You benefit when you participate or when you sponsor a participant. You benefit when you offer your facility for a tour or a session location. You benefit when you offer your expertise as a speaker or for job-shadowing.
Area experts share knowledge and experience on leadership skills, business and industry, community issues and concerns.
The sessions are held from September-May on one full weekday per month. The sessions will be held in various locations and are chosen to expose participants to may different aspects of the community, such as government, schools, businesses and our community service organizations.
For more information regarding the Leadership program, contact the Sun Prairie Chamber of Commerce, 109 E. Main St., (608) 837.4547 or info@sunprairiechamber.com.