Explosion Recovery information/Resources
Main Street Detour established
Westbound on Main Street:
Right on Church Street, right on Columbus Street, left on Wilburn Road, left on N. Bristol Street/Hwy N, right on Hwy 19/Windsor Street.
Eastbound on Main Street:
Right on S. Bird Street, left on Linnerud Drive, left on Market Street, right on E. Main Street
Our hearts are with the family of Captain Cory Barr;  He sacrificed his life to save others.
Our thoughts and prayers are with those affected by the explosion and our thanks to all Firefighters, Police Dept., EMS, and all those who helped in any way.
Click here for the current status of businesses in downtown - open/closed etc.
Current map of area of downtown that is still blocked off - (in green)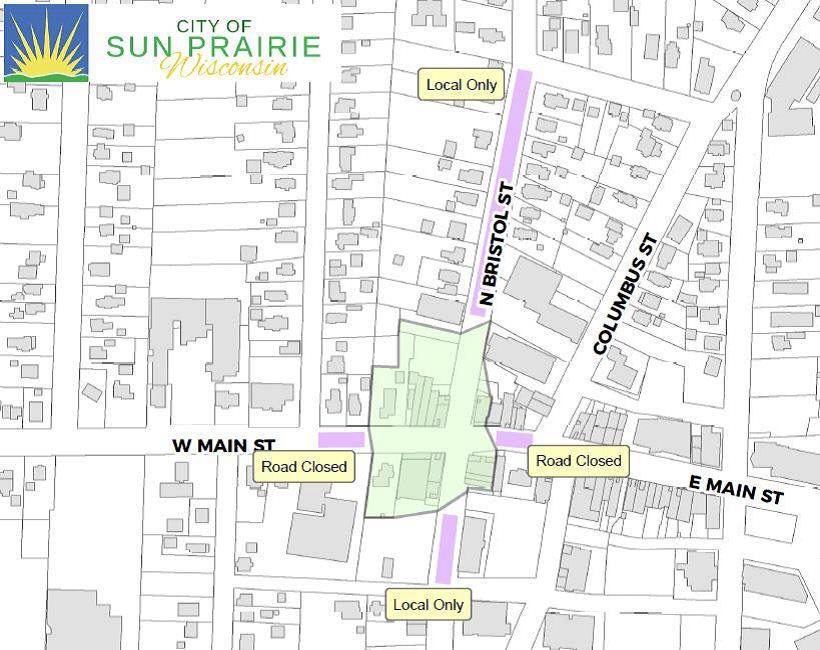 Office space available for displaced businesses: 
Primal Air:  1266 W. Main St.  Call: Phillip -   608-318-2800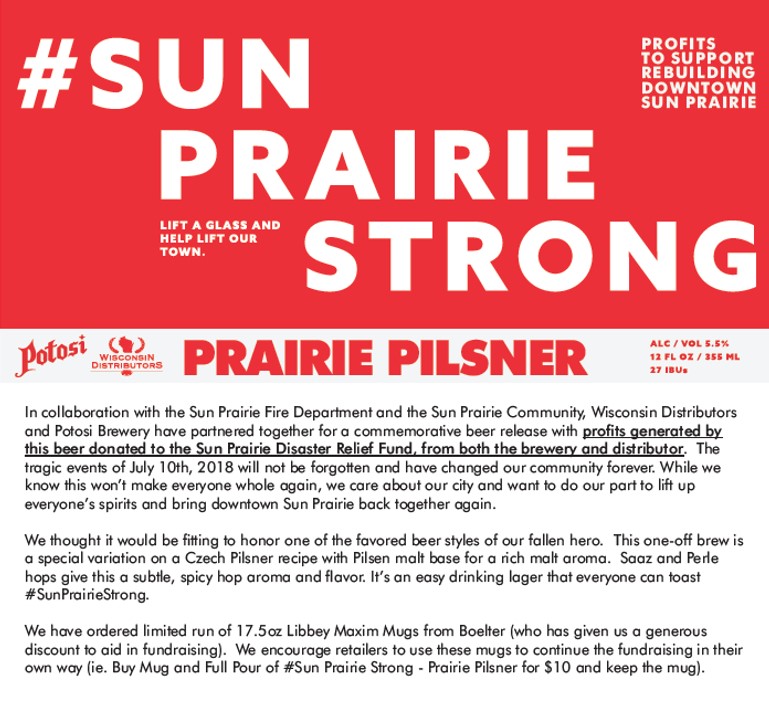 These businesses are open downtown (as of 8/1/18)
Did you know... the following Downtown Sun Prairie businesses are open for business! (Updated August 1st)
Supporting these small business has never been more important!
KONTEXT architects LLC
Inventure Realty Group / Inventurerealty.com
Eddie's Alehouse & Eatery
Bank of Sun Prairie
Cannery Wine Bar and Tasting Room
Designer Nails Academy
Public Enemy Poke and Smoke
Mo'Wyz Dry Cleaners - Open, limited hours, call first. Mobile pick-up & delivery available.
Mr. Rudds Barber Shop
Christine K Designs
Running Diva Mom - Operating from a temporary location
The Chocolate Caper Sun Prairie - Operating from Oregon location
Razor Sharp Screen Printing - Operating from temporary location
American Realtors - Operating from temporary location
Moxiegritfit, llc - Operating from temporary location
Larry Cutler - American Family Insurance Agent - Sun... - Operating from temporary location
Prairie Flowers & Gifts
The Wire Basket
Hen & Rooster Vintage
Sun City Cyclery and Skates
EmeryArt Gallery - Open by appointment
Nest Interior Design
JJ Stitches
Rachel Manzke Photography - Open by appointment
Collector's Choice Coins
Elite Embroidery and Screenprinting
Sun Prairie Clinic of Electrolysis
Burn Boot Camp – Sun Prairie
Beans 'n Cream Coffeehouse
The Piano Gal Shop
MCV Salon
Travel Leaders
Kate & Co.
Nitty Gritty
Day One Pizza
Fusion Dance Academy
Prairie Quilt Works
Prairie Junction Yard
Chamber of Commerce
Salvatore's Tomato Pies
Wagner's Bar
Board and Brush - Operating from temporary location
All Cannery Square businesses are open.