Chamber Gift Certificates
The Sun Prairie Chamber of Commerce Gift Certificate Program plays an important service to the community and member businesses - it bolsters the 'local' economy! More than $20,000 in Chamber Gift Certificates are sold each year and then 'spent' at local retailers, restaurants, bars, gift shops, and more.
Certificates are purchased by businesses, community organizations, and residents as awards for performance, significant contributions, and/or gifts for special occasions.
Chamber Gift Certificates can only be purchased at the Chamber of Commerce at 109 E. Main Street, Sun Prairie during regular business hours.
Certificate guidelines include:
May be purchased for any denomination over $5.00.
Payment for gift certificates is limited to cash & checks. Sorry, no credit cards.
A list of participating members is provided with each Certificate sold
Certificates expire after FIVE years.
There is no cash value.
Once redeemed, the business returns the Certificate to the Chamber office for reimbursement.

Chamber members are reimbursed for its full value less 2%.
Non-Chamber members are reimbursed for their full value less 12%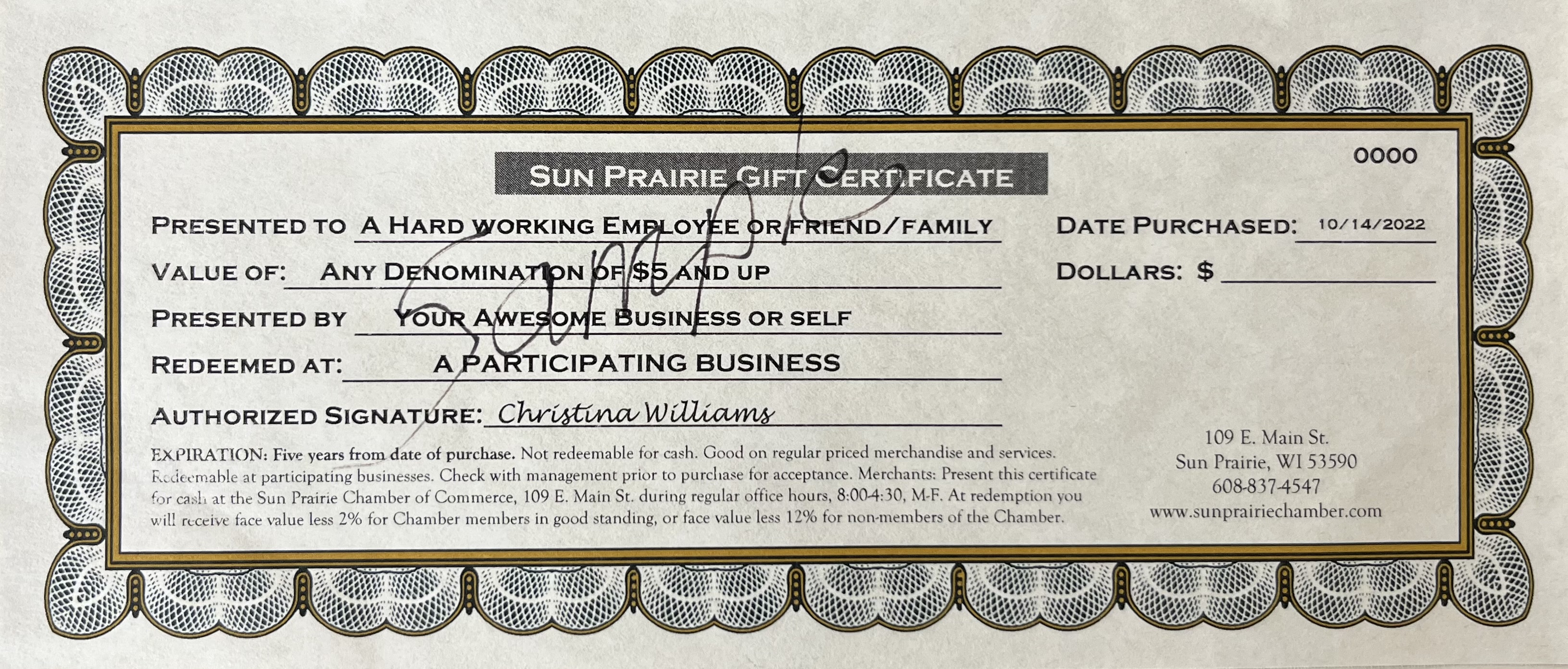 The Gift Certificate program is a value-added program for Chamber members!
If you have any questions about the Gift Certificate Program, please call our office at 608-837-4547 or email us at info@sunprairiechamber.com.
Participating Businesses:
Allure Skin Health
B's Jewelers
Buck & Honey's
Budding Butterfly
Burrachos
Cannery Wine & Spirits
Cardinal Title, LLC
Culvers Frozen Custard
Dairy Queen
Daly's Bar and Grill
Dorn Ace Hardware
Eddie's Alehouse & Eatery, Inc.
Flavors! Wine Bar
Firehouse Subs
Gorilla Movers
Hair by Dawn
Hearts on Fire Designs LLC
Hebl & Hebl, LLP
Johnny's Italian Steakhouse
Kicks Unlimited
Locks and Unlocks
Nitty Gritty - Sun Prairie
Pizza Hut Delivery
Prairie Counseling Services
Prairie Jewelers
Prairie Lanes
Renewed Spririt Day Spa
St. Vinny's
Sun Prairie Star
The Spa Sun prairie
The Wire Basket
Unique Sewing Creations
Wilde East Towne Honda
Zimbrick Chevrolet